Nurses who pursue a family nurse practitioner (FNP) career today can expect to enjoy more autonomy and greater responsibility — all while making a difference in the lives of individuals and within the greater health care system. Possessing advanced education and training, nurse practitioners (NPs) can also benefit from a variety of career choices, such as specializing as an FNP, that align with their personal and professional goals. According to the American Association of Nurse Practitioners, 60.6 percent of NPs opt for certification as an FNP. External link  Here, we examine NP salary by state and some of the NP career options that are available today, as well as the outlook of FNP jobs.
Nurse Practitioner Salary by State
The mean NP salary is $107,480 annually with a mean hourly rate of $51.68 across the country, as reported by the U.S. Bureau of Labor Statistics (BLS).  Practice location is one of many factors that can affect NP and FNP salaries. BLS data show that the mean salary for NP jobs is highest in California, Alaska, Hawaii, Massachusetts, and Connecticut — ranging from an average mean salary of $118,500 in Connecticut to $126,770 in California.
Nurse Practitioner Job Outlook
U.S. News & World Report ranked nurse practitioner as No. 4 on its list of 100 Best Jobs of 2018. External link  Additionally, the BLS projects that the NP field will grow by 36 percent between 2016 and 2026, External link and 56,100 new positions will be available.
Such anticipated growth may be due in part to the shortage of primary care physicians predicted for the years ahead. A 2016 analysis by the Health Resources and Services Administration (HRSA; PDF, 302 KB) External link  states the following: "Under current workforce utilization and care delivery patterns, the 2025 demand for primary care physicians is projected to exceed supply at the national level."
Since NPs are uniquely equipped to provide primary care, the need for FNPs will expand to help fill the gap. As HRSA notes, "With delivery system changes and full utilization of NP and PA (physician assistant) services, the projected shortage … can be effectively mitigated." In such an environment, those who embrace an NP career may be well-positioned for an FNP job.
Family Nurse Practitioner Jobs
As advanced practice nurses, FNPs have a more extensive scope of practice External link than registered nurses who have not earned this designation. NP career options include a variety of opportunities. According to the BLS, physician offices offer the highest levels and concentration of NP employment. External link  Other popular settings include general medical and surgical hospitals, outpatient care centers, offices of other health care practitioners, and specialty hospitals. However, the BLS also reports that the mean annual NP salary is highest in unique industries such as these: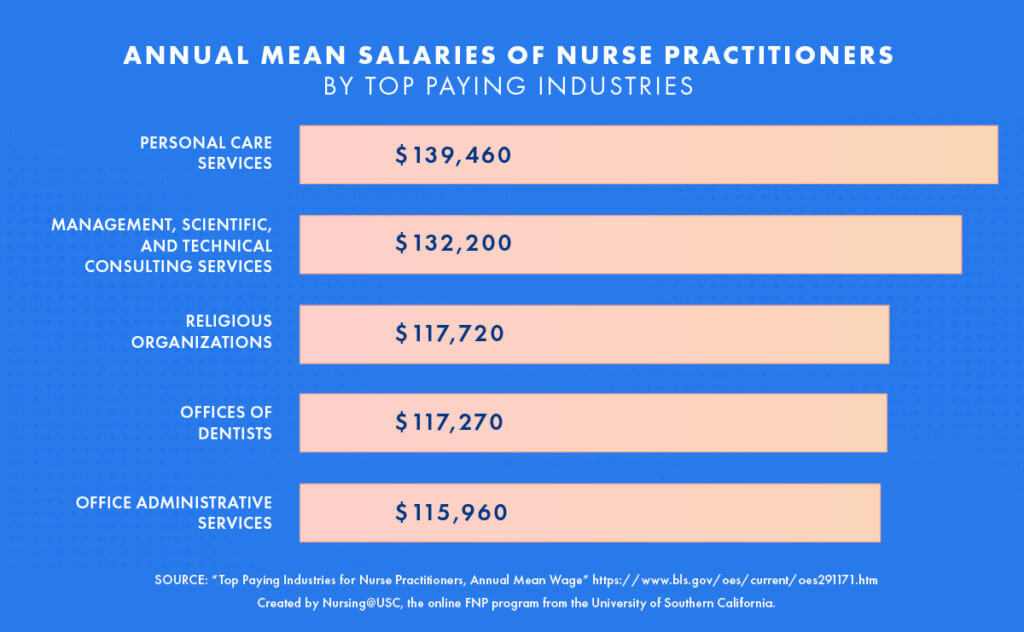 Since the demand for NPs is growing, you'll likely find that you can work in the setting and role that best aligns with your personal and professional needs.
If you're interested in a career where you can make a difference, get started on your journey to pursue an FNP career today.  Check out MD Spots for more information.
Source – https://nursing.usc.edu/blog/family-nurse-practitioner-career/